Meet CSO's Music Director
Maciej Żółtowski is well known for his devotion to music of the 20th and 21st centuries. Being himself a composer, he developed strong links with the contemporary music scene as well as with the best soloists of our times. His thorough and diversified knowledge allows him an unprecedented insight into the music he conducts.
Maestro Żółtowski collaborates with many Polish orchestras including the National Symphony Orchestra of the Polish Radio, the Beethoven Academy Orchestra and Poznan Philharmonic. International audiences could see him conducting in concert halls across Europe, Asia and both Americas.
Maciej Żółtowski studied violin at the prestigious F. Chopin and J. Elsner Music Schools, then continued his studies at the F. Chopin Academy of Music in Warsaw, where he graduated in composition (Prof. Marian Borkowski) and conducting (Prof. Ryszard Dudek). He then honed his conducting skills under the tutelage of Russian maestro Yuri Simonov.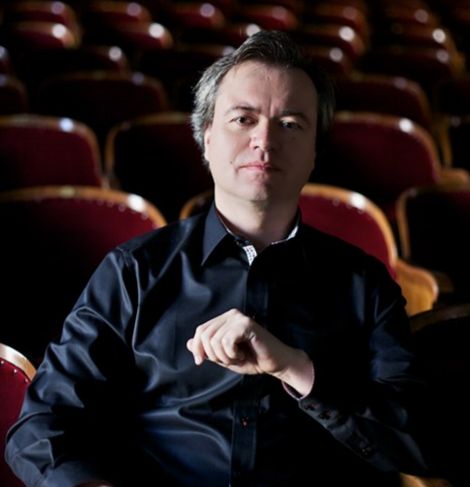 In 1997, he was awarded with the fellowship of the German Stiftung Kulturfonds in Künstlerhaus Schloss Wiepersdorf. In 2000, he won the scholarship of the Japanese Music Foundation JESC. He was the winner of the first composers' competition held by the Musica Sacra Society. In 1999, he was the finalist of the Toru Takemitsu Composition Award (Tokyo). In 2002, the President of the Republic of Poland decorated him with the Silver Order of Merit. In 2017 the Polish Minister for Culture and National Heritage awarded him the Bronze Medal "Gloria Artis" for services to culture.
 Appointed artistic director and conductor of the Cyprus State Orchestra in 2002, Maciej Żółtowski has developed the ensemble to high artistic standards. This has resulted in three international tours with concerts in London, Copenhagen, Paris and Athens. In 2007-2017 Maciej Żółtowski held the post of the Managing and Artistic Director of the Radom Chamber Orchestra (ROK) in Poland. Since 2010 he is President of the International Society for Contemporary Music – Polish Section.
Maestro Żółtowski's discography contains CD's enthusiastically received by the international press: Five Diapasons from the magazine "Diapason", Excepcional by the Spanish "Scherzo", nomination to the International Classical Music Awards 2011. His most recent CD "Krzysztof Penderecki – Works for String Orchestra" has been released by DUX on the occasion of the composer's 80th anniversary and included in the prestigious "Penderecki Special Edition".